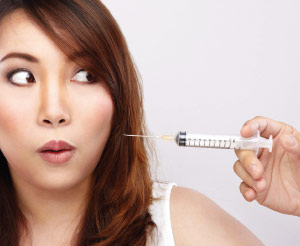 Look at yourself in the mirror.
You probably look great.
If, however, you want to look a little bit fresher/better-rested or there is a line you simply wish was just not there, you may want to consider Botox.
That has led you here. As with any new interest, the internet was the first place you turn. Initially, you may have been horrified to learn Botox is taken from a bacteria that causes botulism, a disease that can be lethal, but your mind was likely put at ease upon learning Botox is a very safe drug that has been produced commercially for medical, cosmetic and research use for almost 40 years.
Further research will give you additional peace of mind and put to rest some of the myths and stereotypes you often hear about Botox, often without any scientific basis. You'll learn botox works by causing a partial or complete paralysis of the facial muscles. This will help diminish the wrinkles left on your face as a result of repeated facial expressions. The results are usually seen within 3-5 days and its effects last for about 3-5 months.  Botox costs $11/unit and, depending on the area you want to be treated, could need between 8-20 units.
YouTube is a great place to learn more. You can watch videos of the entire procedure and check out video montages of before/after photos
Now, you're sold.  It's time to choose the right physician.
This is the most important step. Although Botox isn't dangerous, it could be in the wrong hands. You need to make sure the person that you're trusting your face and health with, is a certified physician with a lot of experience in using Botox. Used incorrectly, Botox could leave you with an undesirable cosmetic result, or without the ability to close your eyes if it is injected too close to the eyelids. Seek out a recommended Doctor; your friends that have used Botox can help you with this. You can also go to botoxcosmetic.com and search if that physician is listed as a user of real Botox from Allergan.
And now you wait.
Post op day number 5: you're so happy you went for it! Maybe you now want to look at our other services such as our new VI Chemical Facial Peel.